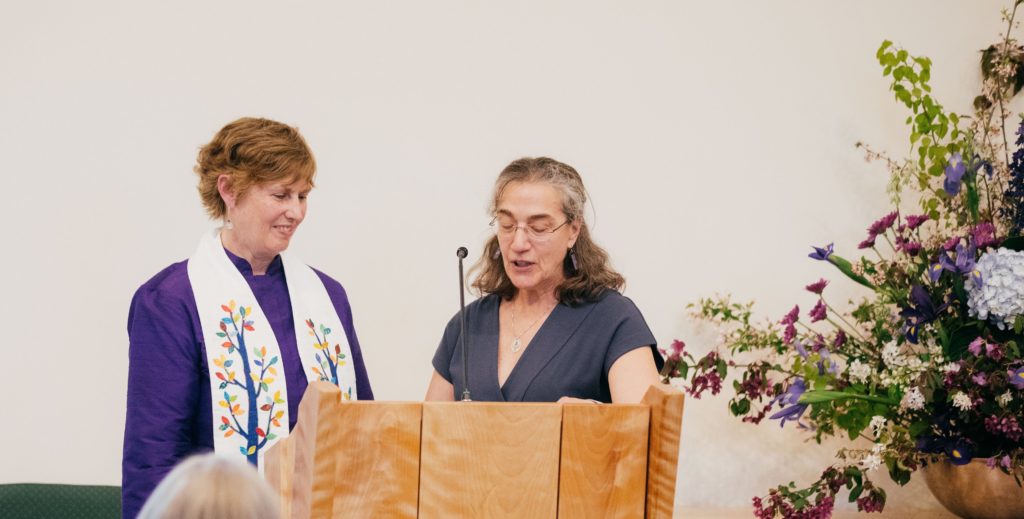 We hope you will join us for virtual Sunday worship and other creative on-line alternatives to stay connected to each other and our faith while we cannot meet in person. Read Rev. Jan's message of hope and connection here.
Using Zoom: If you already have Zoom on your laptop, tablet or phone:  Open Zoom, click on Join a Meeting, and put in the listed Meeting ID #. Alternatively, click the link provided below.
Our Summer Speakers Series: "Stories of Courage"
10 AM on Sundays
Sunday, July 19:  Mitch Beck –"Courage Doesn't Always Roar" UUCUV member Mitch Beck is our featured speaker, and member Rosie Stevens will lead the service.
Sunday, July 26: Gendo Allyn Field–"Courage: A Zen Story for Our Time"
The beginning of the service is intergenerational and children are encouraged to be with us!
You are welcome to join the Zoom meeting at 9:45 and chat with each other until 10, with video on so that we can all see each other.
Additional Zoom Offerings
Sunday RE Service for children at 9 a.m.
The Congregational Zoom Room opens shortly before 9:00 for children and those who care about them to settle in. Religious Exploration with Teacher Jenny and DRE Laura runs between 9:00 – 9:55. We then transition to the 10 am multi-generational service (ID 792 198 974) with a family reading the Story for All Ages. Contact: DRE Laura at exploration@uucuv.org
Sunday, July 19 at 11 a.m.– Officially launching FFRE! Families & Friends of RE (Religious Exploration for Children & Youth)   
Welcome, of course, to our families with young ones but also anyone who wants to support our families and interactively enjoy time with them. Curious about what we envision for fun and free* for all activities? Come to FFRE Coffee Hour this Sunday after services at 11 am. We will all gather in one Zoom Room on the Green Zoom account so you will need to log off Sunday services and onto the meeting below.  This is in lieu of the breakout rooms, just this time – or maybe once a month moving forward.
*FFRE is free – this is NOT a committee and you are NOT signing up to do anything but interact when you are free and so desire!
Meeting ID: 482 062 3359
Password: Chalice or 156703
Monday SE: Qigong & Meditation at 9:30 a.m.
RESUMES JULY 20
Meeting ID: 820 9435 6689
Password: Chalice or 8400618
Arrive at 9:15 to settle in. Stay a while after to check in and chat! Show up in loose fitting clothes with an optional pillow, blanket and coffee/tea thermos. Contact: Laura Moberg at exploration@uucuv.org.
Young One's Social Hour–Tuesdays 4:30 – 5:30
All ages are welcome to join as RE teacher Jenny Albee reads stories, invites participants to share their own stories, and enjoy each other's company. This is a wonderful chance to see people we've missed, meet new people, and invite friends and family who are interested in joyful social time.
Meeting ID: 832 9130 9340
Password: Universal or 306722768
Wednesday SE: Yoga & Tapping at 9:30 a.m.
RESUMES JULY 22
Energy Medicine Yoga guides you through simple yoga poses, empowered by conscious breathing and energy awareness.
EFT (Emotional Freedom Technique) leads you to tap on a set of vital meridian points as you contact and clear thoughts and emotions.
Welcome to settle in and connect at 9:15 with a blanket and pillow and feel free to linger until 10:45 savoring and sharing the peace and tranquility with each other.
Contact: Laura Moberg, exploration@uucuv.org
VT UU Collaborative Middle School Youth Group with other UU Vermont middle schoolers —Wednesdays 4:30 – 5:30 pm on July 8 & 22, August 5 &19– Zoom information in weekly email
UV UU Community Youth Group–Wednesdays 4:30-5:30 p.m. on July 15, July 29, Aug 12, Aug 26
Jenny Albee – group leader. This group is geared toward Youth aged 11+ and participants are encouraged to invite friends and classmates as we take a deeper dive into what's going on in the UV and beyond.  During this time we'll be discussing participant suggested topics such as current events, social justice, and the environment.  Bring ideas and topics, as well as an open mind and heart – Participants will select the topic for the next meeting at the conclusion of Youth Group each Wednesday.
Thursdays Lunch with the Minister at 12:30 p.m. (ON PAUSE IN JULY)
Join Rev. Jan during your lunch break as we explore some thoughts on living in difficult times. Let's share our thoughts and wisdom with each other.
Friday SE: Earth & Sky at 9:30 a.m.
RESUMES JULY 24
On the mythic journey to wholeness, we nourish and support one another as we explore our archetypal patterns in astrology and the four elements. Questions? Contact Laura Moberg at exploration@uucuv.org