The Rev. Jan Hutslar, Minister
Rev. Hutslar was called to our congregation as a full-time minister beginning July 1, 2018.  She leads worship, provides pastoral care, and aids the congregation in fulfilling its mission.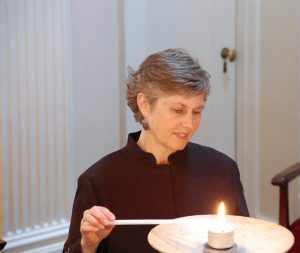 Sparrow F. Alden, Credentialed Religious Educator
Sparrow F. Alden is our three-quarter time CRE.  In addition to children's, youth, and adult religious education programming, she provides pastoral care to individuals and families in the church and in the community.  Sparrow currently supports a number of task forces and committees as staff liaison.
Rachel Clark, Office Administrator
Administrative Office Hours:
Tuesday, Wednesday, Thursday, Friday
10 a.m. – 1 p.m.
Linda Hoover, Music Director
Rev. Patience Stoddard
Rev. Stoddard served the UUCUV from 2013-2018.  She now has Minister Emerita status with our congregation.

Mailing Address:
Unitarian Universalist Congregation of the Upper Valley
PO Box 1110
Norwich, Vermont 05055
Telephone:
802-649-8828