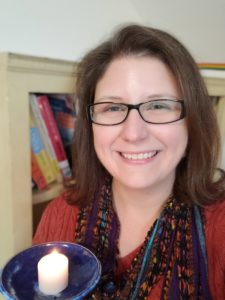 Mandy Ruest started her position as Director of Religious Exploration on September 1, 2019.  She has been a Unitarian Universalist for several years and is a member of our congregation.  She was hired by the Religious Exploration Search Committee after an intensive search process.
Mandy has an MA in Counseling Psychology and an MBA in Organizational and Environmental Sustainability.  She has been a licensed clinical mental health counselor since 2005 and owns her own counseling practice in Lebanon. Prior to becoming a counselor, she taught children ages 4-18 in various schools, child care, and camp settings.
Mandy grew up in the Upper Valley, the oldest of 2 children.  She was raised in a liberal United Methodist Church.  She always believed there to be a greater loving presence, but had many questions regarding the rest of it.  She studied world religions, but never found something that fit just right, until she discovered Unitarian Universalism.  She loves the 7 UU Principles, the freedom to search for our own personal truth, the wisdom from the world religions, and the loving community. When her son was born in 2012, she and her son's father agreed to raise him in the UU church for all these same wonderful reasons.
Mandy's philosophy is that everyone has a core of light and love, with outer layers of fear and protection. Once a person feels physically and emotionally safe enough, they can access their light and shine love into the world.  She practices daily meditations to keep access to her light and enjoys teaching others to do the same.  Her ultimate goal for humanity is to each shift individually from fear to love and fill the world with light.
She can be reached at education@uucuv.org