I welcome you to the Unitarian Universalist Congregation of the Upper Valley (UUCUV) website and invite you to visit us for Sunday Services at 10 AM or to attend one of our discussion groups or events.  I would be pleased to talk with you after the service, at my temporary Hanover office, on the phone, or through email if you would like to ask specific questions about Unitarian Universalism or this congregation.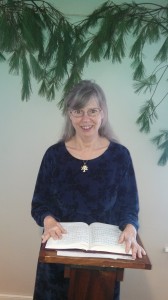 "Love is the doctrine of this church;
The quest for truth is its sacrament
And service is it prayer.
These simple words first hinted to me that I might have finally found my religious home.  While I considered myself a spiritual person, I had found it difficult to find a faith tradition broad enough and deep enough to encompass the various beliefs and traditions which had nurtured my own path.  My own religious background and influences were quite diverse.  Briefly, my mother was an American Baptist; my father an avowed Atheist; I was baptized in an Episcopal church and confirmed in a Congregational one; I attended a Quaker school and lived in a Jewish neighborhood.  I have dear friends and relatives who are Evangelical Christian, Jewish, Catholic, and devotees of Siddha Yoga.  I saw value in all these paths, yet yearned to find a spiritual home that was open to them all.
Meanwhile my work life convinced me that to grow personally and spiritually most of us need community.  I spent my first 10 years after college working with abused and neglected teens in various residential care facilities.  Over time I came to believe that the healing they experienced was fostered primarily through their participation in a supportive, loving community.  My quest for community and my spiritual quest ultimately led me to a Unitarian Universalist congregation.
My call to ministry led me to Harvard Divinity School.  I was ordained into the UU ministry in 1986.  Several years later I integrated my past work as a therapist with my training as a minister through completing a Doctorate of Ministry in Psychology and Clinical Studies at Andover Newton Theological School. Since then I have served several UU congregations in full-time and part-time parish ministries, worked as a pastoral psychotherapist, and served as a Hospice and a Psychiatric Hospital chaplain.
It is this long and winding road that has led me to UUCUV. I consider myself very fortunate to be here.  I hope you and others will consider visiting us to see if this is the right community for you and your family. Whatever your path up to this point, you will find fellow seekers here who wish to share their insights and discoveries with you and to learn from yours.
Please reach the Rev. Dr. Patience Stoddard at minister@uucuv.org or by calling the office at  (802 649 8828).