In the course of the UUCUV's thirty years, our ministry to one another and to the world has blossomed.  Since 1996, our small meetinghouse has been the center of a rich array of activities, and now that we have truly made it the center of our shared spiritual lives, we can more easily see, hear about, and be proud of all that we do. The list is impressive and might easily be longer if we were not constrained by space.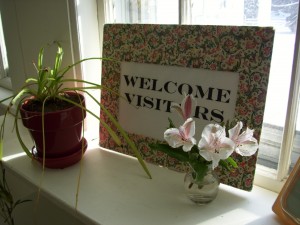 In recent months, we have been filled to capacity on Sunday mornings, drawing as many as 60 adults and two dozen children. This has forced us to hold two services each Sunday morning since February 2014. Concerned that this would challenge the bonds of our friendly community, we placed our coffee hour between the services for a common fellowship time. In the current year, we have expanded our worship options to include a weekday meditation service and a monthly music meditation.

Lifelong learning of many stripes has filled our Meetinghouse. Led by our dynamic consulting minister, the Rev. Dr. Patience Stoddard, and our Credentialed Religious Educator, Sparrow Alden, the UUCUV offers a diverse range of opportunities to deepen one's knowledge. From children and youth religious education programs, to courses on the Bible and world religions, to a seminar on self-compassion, we offer programs that open both hearts and minds and are truly unique in the Upper Valley. We hold periodic "New UU" classes for newcomers who wish to learn more about Unitarian Universalism and the working of our congregation, as precursor to membership for those who are interested. Sparrow Alden offers periodic meetings for parents of children in religious education to discuss the challenges of parenting today and how our religious education program can support individual families.
Indeed, our religious education program is experiencing a robust reawakening this year, with 30 registered children and youth. Did you know that there is currently but one Credentialed Religious Educator (CRE) in our Northern New England District (spanning Vermont, New Hampshire, and Maine), and our Sparrow Alden is the one? She has worked hard for this, and we are indeed fortunate to benefit from her expertise, vision, and creativity. Our children are our future and our sacred responsibility. We see the continued arrival of new families as testimony that they want their children to begin "the organic development of an individual spiritual path", as Sparrow wrote in our newsletter last fall. "Learning to participate in a worship service, learning about ethical decision making, participating in LISTEN dinners, our children see that there are good people in this world trying to make it better."
Other activities filling our Meetinghouse:
An intriguing lending library.

Board and committee meetings.

Choir rehearsals.

Indian dinners.

Game evenings.

Elder luncheons.

Youth group evenings.

Apple Everything and Upscale Resale.

Books and Music Sale

Soup Dinners.

Our business operations, where our Administrative Assistant Rachel Clark ably keeps us organized.
Our congregation's outreach is far-ranging and powerful. In the 1990s, we bore witness in support of Vermont's successful Civil Unions law, and we became a Welcoming Congregation. Our famous Pods for the Pulpit Crafts Fair annually raises funds in excess of $9,000, half of which we use to support local organizations helping those in need.  We became the first official Green Sanctuary in the nation in 2002 after many sessions educating members and friends on environmental sustainability, adopting sustainable practices in our current meetinghouse, and creating a Spirit in Nature Path in our upland pine acreage. Members of our congregation have presented keynote addresses and workshops on environmental justice and sustainability at District conferences and national Unitarian Universalist Association General Assemblies. We remain committed to these practices in planning the new Meetinghouse and the building is being designed so that with the addition of solar panels, it would have the capacity to become a net zero building, meaning the total amount of energy used by the building on an annual basis would be roughly equal to the amount of renewable energy created on the site.
We are a Partner Church with the Unitarian Congregation in Mukhap, India, corresponding regularly with them and supporting a number of their children in school. We are regular supporters of The Haven, a local shelter, and we cook bi-monthly dinners for those in need at Listen Community Services. On the wall in our current meetinghouse is a clever and surprisingly extensive portrait that shows the many ways in which members of the UUCUV are engaged in helping make the world a better place through social and environmental justice on local, state, national, and world levels.
The sky is the limit for this thriving ministry. Imagine the possibilities if we were operating in a space that was better suited to our activities.
Next: Our Needs >