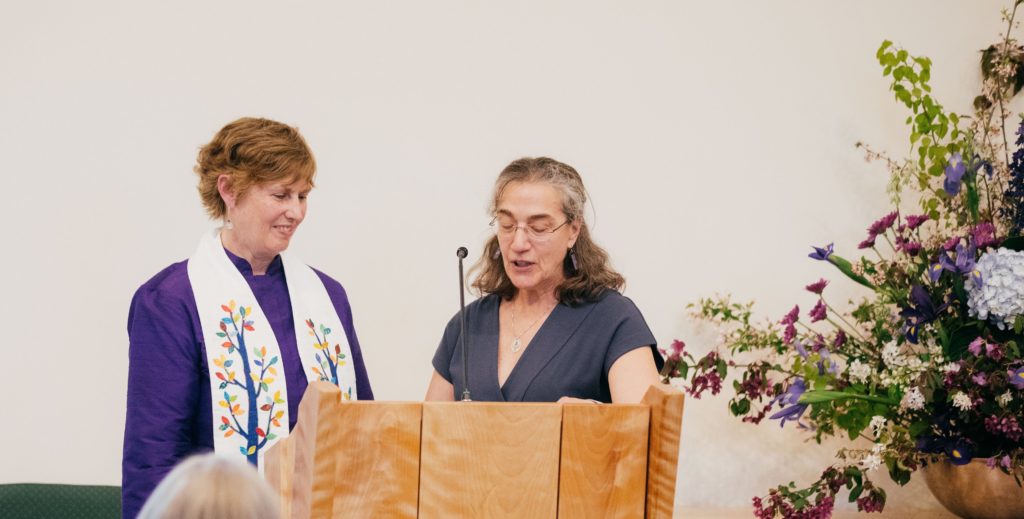 We hope you will join us for virtual Sunday worship and other creative on-line alternatives to stay connected to each other and our faith while we cannot meet in person. Read Rev. Jan's message of hope and connection here.
Using Zoom: If you already have Zoom on your laptop, tablet or phone: Open Zoom, click on Join a Meeting, and put in the listed Meeting ID #. Alternatively, click the link provided below.
Our Summer Speakers Series: "Stories of Courage"
10 AM on Sundays
Sunday, August 9: Dr. Rihan Khan, MD – "Courage to Unite: The Muslim Perspective"
Dr. Khan is Associate Professor of Radiology, Geisel School of Medicine, Dartmouth.
Sunday, August 16: Rev. Jan Hutslar on the theme of Courage
You are welcome to join these Zoom meetings at 9:45 and chat with each other until 10, with video on so that we can all see each other. 
Additional Zoom Offerings
Sunday RE Service for children at 9 a.m.
The Congregational Zoom Room opens shortly before 9:00 for children and those who care about them to settle in. Religious Exploration with Teacher Jenny and DRE Laura runs between 9:00 – 9:55. We then transition to the 10 am multi-generational service (ID 792 198 974) with a family reading the Story for All Ages. Contact: DRE Laura at exploration@uucuv.org
Monday SE: Qigong & Meditation at 9:30 a.m. with DRE Laura Moberg
Not meeting August 24
Meeting ID: 820 9435 6689
Password: Chalice or 8400618
Arrive at 9:15 to settle in. Stay a while after to check in and chat! Show up in loose fitting clothes with an optional pillow, blanket and coffee/tea thermos. Contact: Laura Moberg at exploration@uucuv.org.
Tuesday RE: Young One's Social Hour at 4:30 – 5:30
All ages are welcome to join as RE teacher Jenny Albee reads stories, invites participants to share their own stories, and enjoy each other's company. This is a wonderful chance to see people we've missed, meet new people, and invite friends and family who are interested in joyful social time.
Meeting ID: 832 9130 9340
Password: Universal or 306722768
Wednesday SE: Yoga & Tapping at 9:30 a.m. with DRE Laura Moberg
Not meeting August 19
Energy Medicine Yoga guides you through simple yoga poses, empowered by conscious breathing and energy awareness.
EFT (Emotional Freedom Technique) leads you to tap on a set of vital meridian points as you contact and clear thoughts and emotions.
Welcome to settle in and connect at 9:15 with a blanket and pillow and feel free to linger until 10:45 savoring and sharing the peace and tranquility with each other.
Contact: Laura Moberg, exploration@uucuv.org
Wednesday RE: Youth Group (middle schoolers) at 4:30-5:30 p.m.
VT UU Collaborative Middle School Youth Group with other UU Vermont middle schoolers —Wednesdays 4:30 – 5:30 pm on August 5 &19– Zoom information in weekly email
UV UU Community Youth Group–Wednesdays 4:30-5:30 p.m. on Aug 12, Aug 26
Jenny Albee – group leader. This group is geared toward Youth ages 11+ who are ready to talk about creating the world they want to live in and ways to become engaged in the process. As with the Young Ones Social Hour, participants are encouraged to invite friends, peers, and classmates – the more the merrier (and discussion oriented). Bring ideas and topics, as well as an open mind and heart – Participants will select the topic for the next meeting on 8/12. This week's theme explores participant's ideas of what "everyone in this country should have".
Friday SE: Earth & Sky at 9:30 a.m. with DRE Laura Moberg
Not meeting August 21
On the mythic journey to wholeness, we nourish and support one another as we explore our archetypal patterns in astrology and the four elements. Questions? Contact Laura Moberg at exploration@uucuv.org