Learners of elementary school age are on a beautiful inner journey.  They have a curiosity and a drive to find out about the world which leads them on great explorations!  Our curriculum this year will follow three themes, all from the perspective of Unitarian Universalist identity: Festivals of Light; Standing Up for Right; and Caring for the Earth.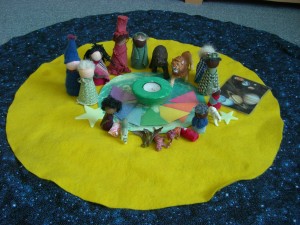 Sheena Morris, our certified childhood educator, brings Spirit Play to the elementary aged children;  Spirit Play is a storytelling method based on the philosophy of Maria Montessori.  Beautifully prepared materials express the story, and children have a variety of media with which to respond to it.  The classes use a very stable structure to move from communal greeting and attending the story to intense individual work and a re-gathering of the group for closing ritual.  Please find out more about Spirit Play methods and philosophy by following this link.  Parents in this classroom will share the duties of assisting as Doorkeeper.
Everyone in the Spirit Play classroom follows a covenant of behavior.  Sometimes we slip out of our agreement, and the teacher will give individuals private time to think about the covenant and decide when they are ready to rejoin the community.
I seek love in you
Treat everyone as they would like to be treated
Be nice to one another
Be kind to Nature
Be respectful of the classroom and the things within it.
Religious Education classes extend a bit longer than the worship services, to give kids plenty of unhurried time to do their individual work.  The original classes which pioneered this style of religious education lasted three hours!  Parents, take that chance to grab coffee and a quick word with other grown ups before joining the closing circle at 11:25.
Our curriculum rotation follows these themes:
September & October: Unitarian Universalist Identity
November & December: World Religions (affirming our congregation's life as a partner church)
January & February: Justice and Anti-Bullying (reflecting the Welcoming Congregation work of the UUCUV)
March: Music & Story (because sometimes winter is a little bit too long)
April, May & June: Spirit in Nature (a cornerstone of our Green Sanctuary work)