Learners of upper elementary school age are on a beautiful inner journey.  They have a curiosity and a drive to find out about the world which leads them on great explorations!  Our curriculum this year will follow a number of themes, woven together by Unitarian Universalist Identity and Acts of Kindness.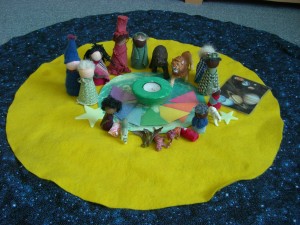 The Soul Matters curriculum we will use this year includes stories of fellow UUs whose lives and actions are worth contemplating and imitating as well as developing personal spiritual practices for each individual's lifelong journey.  We follow the example of the Transcendentalists in supporting conversation, contemplation, and time in Nature as core techniques for spiritual growth – adding expression through art and music.
Everyone in the Upper Elementary classroom contributes to creating and following a classroom covenant.  Sometimes we slip out of our agreement, and the teacher will give individuals private time to think about the covenant and decide when they are ready to rejoin the community.  In 2018, the covenant read:
I seek love in you
Treat everyone as they would like to be treated
Be nice to one another
Be kind to Nature
Be respectful of the classroom and the things within it.
Religious Education students begin in the sanctuary at 10AM with their families.  After collecting food for our neighbors at The Haven food pantry, they retreat to the sunny Rainbow Room for their class time.  The class will run to 11:30   Parents, take that chance to grab coffee and a quick word with other grown ups when the sermon ends, then join the closing circle at 11:25 to re-integrate with your children.
Our curriculum rotation follows these themes:
September: Vision
October: Sanctuary
November: Memory
December: Mystery
January: Possibility
February: Trust
March: Journey
April: Wholeness
May: Curiosity